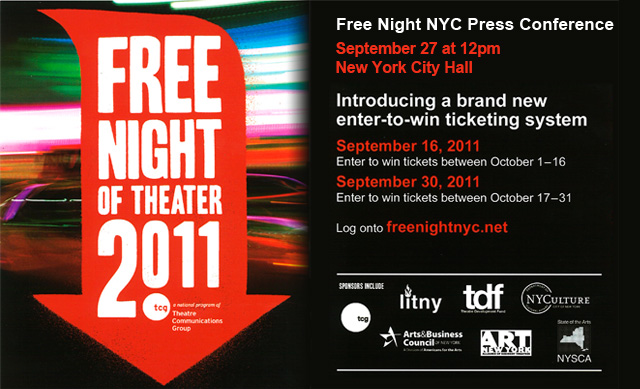 Reach new audiences through the new-and-improved Free Night NYC.
It is that time of year again for Free Night NYC. We've heard your feedback and have exciting changes to announce. These changes address concerns around the ticketing system and the no-show rates, so please take a look and sign up to participate by September 1, 2011.
In partnership with LA Stage Alliance and through a generous grant from Sony Pictures Entertainment, a brand new, enter-to-win ticketing system has been created for use across the country.
What's different about this system?
It will no longer be a race to the finish for our patrons to get tickets. Instead, audiences will have one week to peruse the site and choose their top 5 picks in priority order.
Participating theaters will no longer need to allocate the number of tickets to any given performance until seeing the demand for the particular show. Once the number of requests is received, theaters can determine how many tickets to give.
Free Night NYC will offer two blocks of ticket releases to the patrons. The first block is for performances between October 1-16 and the second block is for performances between October 17-31. This will not affect the inputting of shows for participating theaters, but will assist in the curbing of no-show rates.
There will be a webinar training session hosted by LA Stage Alliance and NYC's Regional Administrator on Monday, August 15 at 2pm EST. This will be between 45-90 minutes in duration.