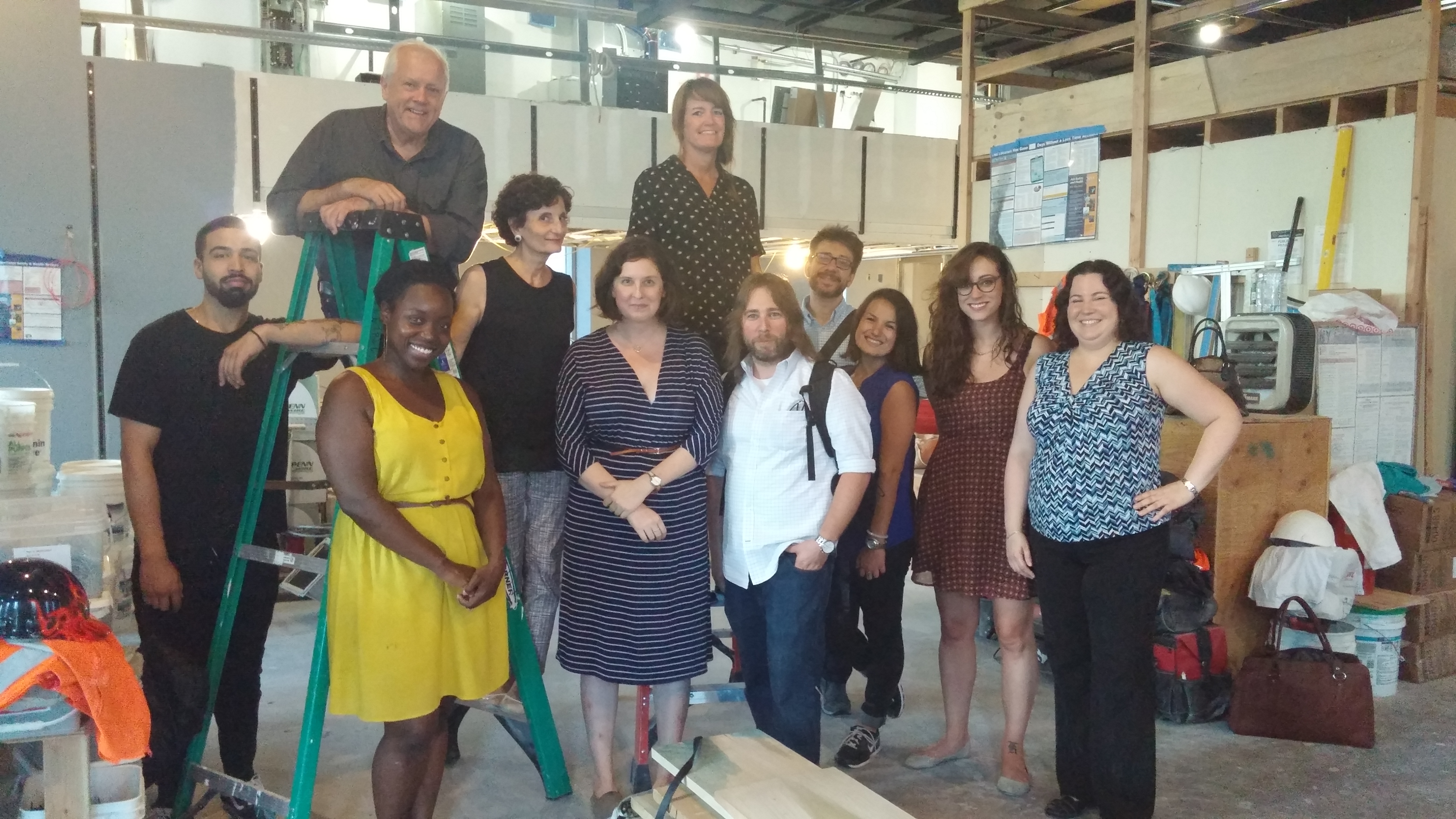 A.R.T./New York Staff on a tour of the theatres under construction
By Kendra Ramthun, General Manager of the A.R.T./New York Theatres

I am super excited to be taking the "pen" this week to share a little about the A.R.T./New York Theatres -- the part of the journey I have been lucky to experience so far and the exciting things to come.
My connection to the A.R.T./New York Theatres began even before I began working here. Like many of our members, I attended a tour of the construction site in October 2015 and could already sense how amazing and absolutely necessary these theatres are to the nonprofit theatrical community in NYC.
For the previous seven years, I had worked at several Off-Broadway theatre companies who were fortunate to have their own buildings. In my general management positions with these companies, I handled rental inquiries in addition to working on the company's own productions. I quickly learned that one of the first things to determine with rental inquiries was whether the spaces we had fit within the budget parameters of the company inquiring. For many smaller companies, the spaces were simply beyond their budget. Both of the buildings I worked at are new-ish, modern facilities with lots to offer, but the rental costs necessarily had to be high because the overhead costs and labor to support the rental's needs were high.
On the A.R.T./New York Theatres tour last October, I learned that A.R.T./New York had initiated a campaign specifically to be able to subsidize the rental costs for its members with budgets under $1 million. This. Is. Amazing. Think about it -- a company deciding to raise millions of dollars to build two theatres for the benefit of its members, and then deciding to go further to raise even more money to directly reduce member costs to use the theatres so they can invest more in the art -- this is HUGE.
Shortly after the tour, I was invited to serve on the panel to select the very first Rental Subsidy grant recipients. Of course I said yes! What a great opportunity to understand firsthand what the A.R.T./New York theatres will enable its members to accomplish. The experience confirmed for me that YES, I want to be involved with opening these theatres and creating this program. And evidently, I was able to successfully demonstrate this desire in my job application and interview!
Fast forward to February 2016 - I became a full-time employee of A.R.T./New York and eagerly jumped in.
On the construction front, I have been learning everything from building code and required permits to how exactly every single door in the building was designed to keep the performance space quiet. Good thing I enjoy learning! This involvement with the construction team has enabled me to make direct contributions to how the building will ultimately function. It has also helped the construction team to understand how the building needs to function to support theatrical productions and the creativity and needs of our members.
On my frequent visits to the theatres, it is incredibly exciting to see the progress being made. One day I'll discover that the stairs to the Gural booth have been installed and get to be one of the first people to walk up them. And on another, that the pipe grid has been installed or a wall that didn't exist yesterday is now there today. It's like finding Waldo on every visit.
On the operations front, I have the amazing opportunity to fine-tune how the theatres will function on a day-to-day basis and guide organizational efforts towards the opening in November and the start of operations. This process first began as a major brainstorming session. How will companies be scheduled for dates? What needs to be decided and included in a rental contract? What staffing and resources are needed to support rentals onsite? What is the A.R.T./New York experience we want our members and their audiences to have when walking in the door? What do we need to purchase and how much (gasp) is it going to cost? And most importantly, how can we maximize the benefits of these theatres for our members while creating a sustainable structure for years to come?
These brainstorms (and many others) formed the basis of our Critical Path for these past six months. Working with my talented A.R.T./New York colleagues, we fleshed out all of the steps necessary for each area and determined when each step would happen. We review our progress in regular meetings and continually refine our timeline and priorities. Once operations begin, our focus will shift from creating into doing. We will see how the policies and best assumptions we made work in actuality, and we'll continue to learn and revise as we go.
So where are we going? Any day now, permanent power will be turned on in the building. In the next two weeks, the seating platforms and chairs will be delivered and the elevator work will be completed. Next month, the glass entrance will be installed, millwork and finishes will be put in and inspections will begin. In two short months, we will welcome the first company into the Gural. By June of 2017 we will have hosted a dozen productions by our member theatres. And then it will be time for a vacation!