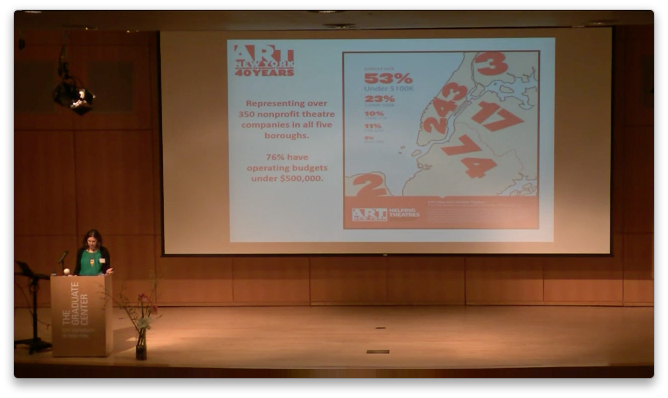 On February 9, A.R.T./New York had the privilege of presenting at the CUNY Graduate Center at a gathering entitled "
Crisis to Creation: A Town Hall on the Future of New York City Theatre
." The event, organized by Brad Burgess in collaboration with Frank Hentschker, was centered around strategies to sustain theatres and theatre artists in New York City in the wake of the financial crisis and the seemingly endless challenges facing artists who live and make work in the city today. The evening culminated in the presentation of the inaugural Segal Award to Majority Leader of the New York City Council Jimmy Van Bramer, and remarks from DCA Commissioner Tom Finkelpearl, both champions of NYC's arts and culture.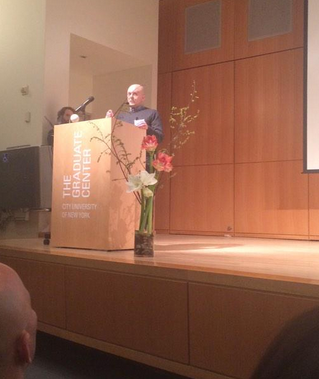 The evening featured a number of speakers, all of whom make theatre or provide services to theatres in New York City. These range from the local (
4th Street Arts Block
) to the national (
Theatre Communication Group
) and many in between, including the
Asian American Arts Alliance
and
One Percent for Culture
. The evening opened with an invocation in the form of a 'letter' from Ellen Stewart, the deeply missed founder of
LaMama Experimental Theatre
in the East Village, read by their current Artistic Director Mia Yoo. Stewart's was not a typical path to the theatre, and what she created at LaMama reflected her unique personality, sense of style, and vibrant artistry. She used the metaphor of the pushcart, which was returned to during the evening, as a way to describe our theatre community and what we have to offer one another as we move forward.
Generosity
was the watchword of the evening, inspired by Ellen.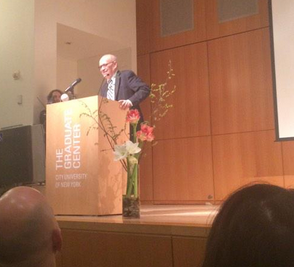 The presentations were each unique and interesting (props to Jennifer Wright Cook from
The Field
for being my personal Powerpoint hero), covering topics ranging from
The League of Independent Theaters
' Charter Barter program in schools to National
BlackFest
's upcoming presentations at
The Lark
to
ArtsPool
's launch of its collective insourcing services (you know we're big fans of theirs here at A.R.T./New York). But what was most exciting was the breadth of the services and support that are available to theatres and artists here in New York City. The sheer number of committed, passionate, generous administrators and artists who are creating work and connecting artists with services is outstanding. Being in a room with Gus Schulenburg from N.E.T., nobody could believe that theatre is in crisis. Rather, we are pushing the cart forward, if slowly.
Is it enough? No. Can we do more? Of course. But there are solutions being enacted. One of A.R.T./New York's responses, and the one that was presented on Monday, are the two state-of-the-art performance spaces we will open on West 53rd Street in the summer of 2016, which you can read about
here
. Affordable space is one of many responses to the crisis of 2008. As one audience member described the theatre project after the event—"So, you want artists to have more, for less? Usually it's the other way around." That sounds about right.
—
Ann Marie Lonsdale, Director of Programs