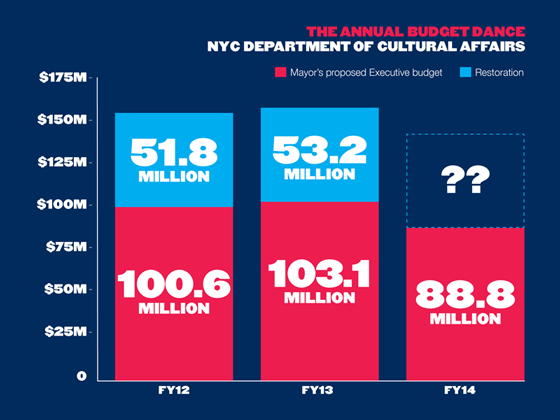 Two weeks ago, Mayor Bloomberg released his FY14 Executive Budget, which reflected continued cuts to the Department of Cultural Affairs! If these funds are not restored, a total of $67,484,973 will be cut from the Department of Cultural Affairs (DCLA) from the adopted budget in FY13, with $23,098,123 being cut from programs. The Cultural Institutions Group stands to lose $44,386,850 in funding.
As always, we want to urge you to contact your City Council member where you live AND where you work, and ask them to restore full funding for DCLA once more. Tell them that your companies are in the schools, the senior centers, and their neighborhoods. Remind them that when the arts suffer, so do New York City's local businesses.
Help us get these valuable dollars restored! Here are ways that you can make your voice heard:
Write or visit your City Council Member where you live and where you work and ask them to RESTORE THE FUNDING to the New York City Department of Cultural Affairs! I cannot emphasize enough how important it is to send letters AND to make a face-to-face appearance. Ask your board members who are registered voters in New York City to visit their Council Members as well.
Make sure that everyone who visits or writes their Council Members can share this economic impact data, prepared by A.R.T./New York:
New York City's 375 nonprofit theatres reach

8,812,360
theatergoers

Using conservative estimates, we determined the following:

Total amount spent at local restaurants

$ 154,016,940

Total amount spent on parking

$ 45,218,862

Total amount spent on taxi fare

$ 65,387,711

Total amount spent on subway fare

$ 44,061,800

Grand total contributed to City's economy annually
by NYC nonprofit theatres

$ 308,685,313
If you have a vendor (printer, graphic designer, restaurant owner) who is willing to write a letter or attend a visit with you to your Council Member, please have them do so! Their support carries tremendous weight because they reinforce our message that the arts are a vital part of New York City's economy, and these cuts would be devastating.
Do you have a story to tell about how your company has worked in the community? Do you have a particularly great partnership with a local business? We want to hear about it! Email your stories to

[email protected]

.
We cannot afford to sit this one out and hope that other groups will do our work for us. We need a strong showing of letters and visits to Council Members.
There will be a joint hearing of the Committee on Cultural Affairs, Libraries and International Intergroup Relations (along with the Finance Committee and the Select Committee on Libraries) on Monday, June 3 at 10:00am. Please note that the public will not be able to testify at the June 3 hearing before the Committee on Cultural Affairs. Libraries will testify that day at 10:00am and then Commissioner Levin is scheduled to testify at 11:30am. The public will be allowed to testify on June 5 at 3:30pm after the Department of Finance, the Comptroller, and the Independent Budget Office testify starting at 1:00pm. Last year it was nearly impossible to get inside the building to testify. For this reason, we are urging members to mail prepared testimony to City Council Finance Committee Chair Domenic Recchia, 250 Broadway, Suite 1785, New York, NY 10007.
If you have any questions, feel free to contact Executive Director Ginny Louloudes at (212) 244-6667 ext. 228 or [email protected].