The Nancy Quinn Fund
About | Timeline | Guidelines & Eligibility | Grant Assistance | Grant Recipients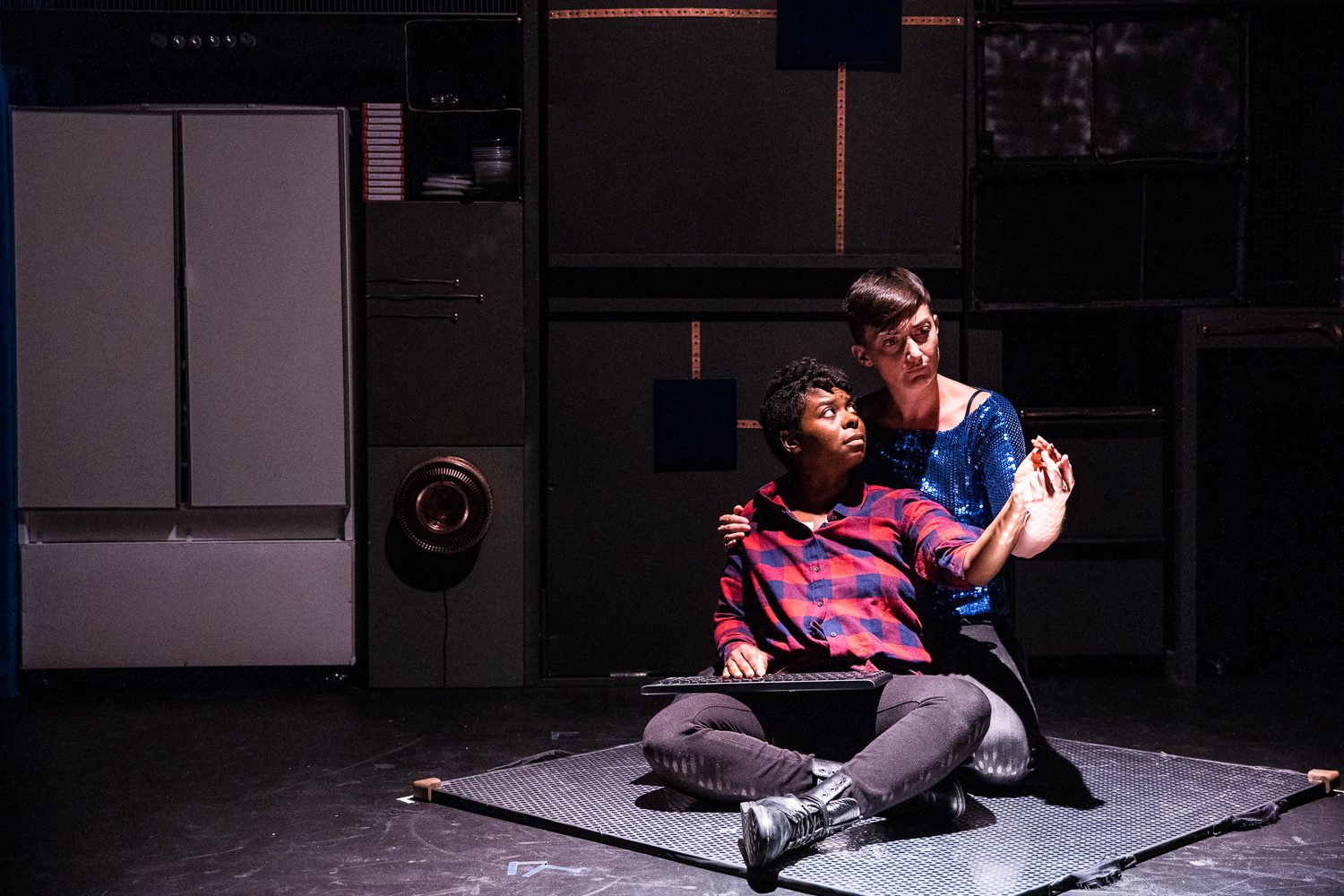 Jehan O. Young and Megan Paradis Hanley in The Syndicate's TINY ERRORS AT THE END OF THE MILLENNIUM.

Photo credit: Al Foote III Theatrical Photography.
OVERVIEW
The Nancy Quinn Fund was created in honor of Nancy Quinn, one time A.R.T./New York board member and former Artistic Director of Young Playwrights, Inc. Ms. Quinn strongly believed in the importance of giving young talent an opportunity to "have their say." She showed tremendous respect for the voices of the next generation of artists and was committed to fostering the work of new, emerging, and small theatre companies. After she passed away in 1993, A.R.T./New York launched the Nancy Quinn Fund to assist its largest and most rapidly growing sector of member theatres – those with annual cash budgets under $100,000 – by providing management seminars, annual grants, and other services designed to help companies facing the challenges of producing in New York City.
Often on the cutting edge of the theatrical experience, these small theatres frequently produce world premieres that launch new careers, technology, techniques, and plays into the American Theatre lexicon. Despite the number of companies this size, however, very few funding resources are available to them. The Nancy Quinn Fund is designed specifically to help fill that need by providing general operating grants to those companies with budgets under $100,000.
Grants range in size from $750 to $2,500 with no grant exceeding 10% of the theatre's expenses for its most recently completed fiscal year. If your organization's budget is less than $7,500, apply for the $750 minimum grant. If your most recently completed fiscal year was unusually small, you may take the average expenses of your last two completed fiscal years.
Grantees can find information on crediting policies and language here. 
For more information about this program, please email [email protected].
---
Please see below for all pertinent deadlines for the 2019 Nancy Quinn Fund.
Application opens: February 4th, 2019

Info Sessions: 

Application closes: March 11th, 2019 at 5:00pm
---
ELIGIBILITY
Applicant must be a Full or Independent Producer member of A.R.T./New York in good standing. Incubator members are not eligible for this grant program.

Applicant must have had annual expenses totaling under $100,000 for its most recently completed fiscal year.

Applicant must primarily produce in one of the five boroughs in New York City.

Applicant must have participated in Organizational Planning and Process Part 1 and Part 2. The one-on-one individual session is not required. Applicants only need to complete OP&P once after becoming an A.R.T./New York member.

Applicant must not have an outstanding final report from previous years' grant cycles.

Companies applying for A.R.T./New York membership in order to be eligible for a grant must apply for membership at least 2 weeks before the grant deadline (and should keep in mind that Organizational Planning and Process is required in advanced of the application deadline). Contact David Shane, Membership Manager at

[email protected]

 to explain your intention to apply in order to ensure your membership is approved in time.

A company does not have to be incorporated or have 501(c)(3) status to apply.

2019 Guidelines, Templates, and Evaluation Criteria »

Please review this information in full before applying.


---
GRANT ASSISTANCE
Information Sessions
These sessions, held in our Manhattan office and online, will be hosted by A.R.T./New York programs staff who will walk applicants through the application and guidelines. Applicants are welcome to bring questions, and are strongly encouraged to read the application and guidelines before coming to the session.

Grant Info Sessions: 

February 6th, 2019 at 1:00pm - Online »

February 19th, 2019 at 2:00pm - A.R.T./New York Manhattan office »

February 26th, 2019 at 6:30pm - A.R.T./New York Manhattan office »
Narrative Statement & Budget Review
Applicants who wish to receive comments on a draft of their narrative and/or their budget and budget notes before submitting their application may send a draft and receive comments from the A.R.T./New York Programs team. The hope is to give applicants who choose to avail themselves of this service the best possible opportunity to create a competitive application.
Before submitting a narrative statement for review, we strongly encourage you to read over the narrative questions and the criteria for evaluation and ensure your narrative addresses these in full. We also strongly encourage you to have a second reader do the same, as well as having someone look over the narrative for a copy-edit. Incomplete narrative statements will not be accepted for narrative review. Once you have done these things, A.R.T./New York staff will be happy to read your draft for clarity and content. 
In addition to submitting a narrative statement for review, you may also submit a budget and budget notes for review by Programs Staff. Please make sure that you are using the correct budget template for the stream of funding you are applying for and please note budgets submitted for review without accompanying budget notes will not be accepted for review.
When sending a draft, please keep in mind:
A.R.T./New York staff will only look at one draft and provide comments. We cannot review multiple drafts for you before the deadline.

A.R.T./New York staff will only review your narrative statement, budget, and budget notes. No other application documents may be sent for review prior to submitting your application.

Incomplete narratives (that do not answer all required narrative questions) or budgets that do not include accompanying budget notes will not be reviewed.

To ensure feedback in a timely manner, you must submit your draft by 5:00pm on Monday, February 25th, 2019
Our staff will look at the draft of your narrative and provide comments and guidance. We will not copy edit or rewrite your narrative for you.

The individuals providing comments are not voting members of the grant panel.
If you are seeking a review of your narrative statement and/or budget, please send a draft as a PDF attachment with your company's name in the file name to Kirsten Sweeney at [email protected] by 5:00pm on Monday, February 25th, 2019, and a member of the A.R.T./New York Programs Team will review it and provide comments.
---

Grant Reporting

Grant crediting guidelines and language »
2019 NANCY QUINN FUND GRANT RECIPIENTS


Andy Bragen Theatre Projects

Associates Theater Ensemble

Dramatic Question Theatre (DQT)

Falconworks Artists Group

General Mischief Dance Theatre

Hedgepig Ensemble Theatre, Inc.

Honest Accomplice Theatre

Live Source Theatre Group

New Stage Theatre Company

Partial Comfort Productions

Pioneers Go East Collective

Smoke & Mirrors Collaborative

Voyage Theater Company, Inc

.

Header: Irish Repertory Theatre's production of Finian's Rainbow. Photo by Carol Rosegg.  
The Nancy Quinn Fund is made possible in part by generous funding from the Mental Insight Foundation and the New York State Council on the Arts.