The Edith Lutyens & Norman Bel Geddes Design
Enhancement Fund
JUMP TO: Overview | Timeline | Eligibility | Guidelines & Evaluation Criteria | Info Sessions | Narrative & Budget Review | Current Grantees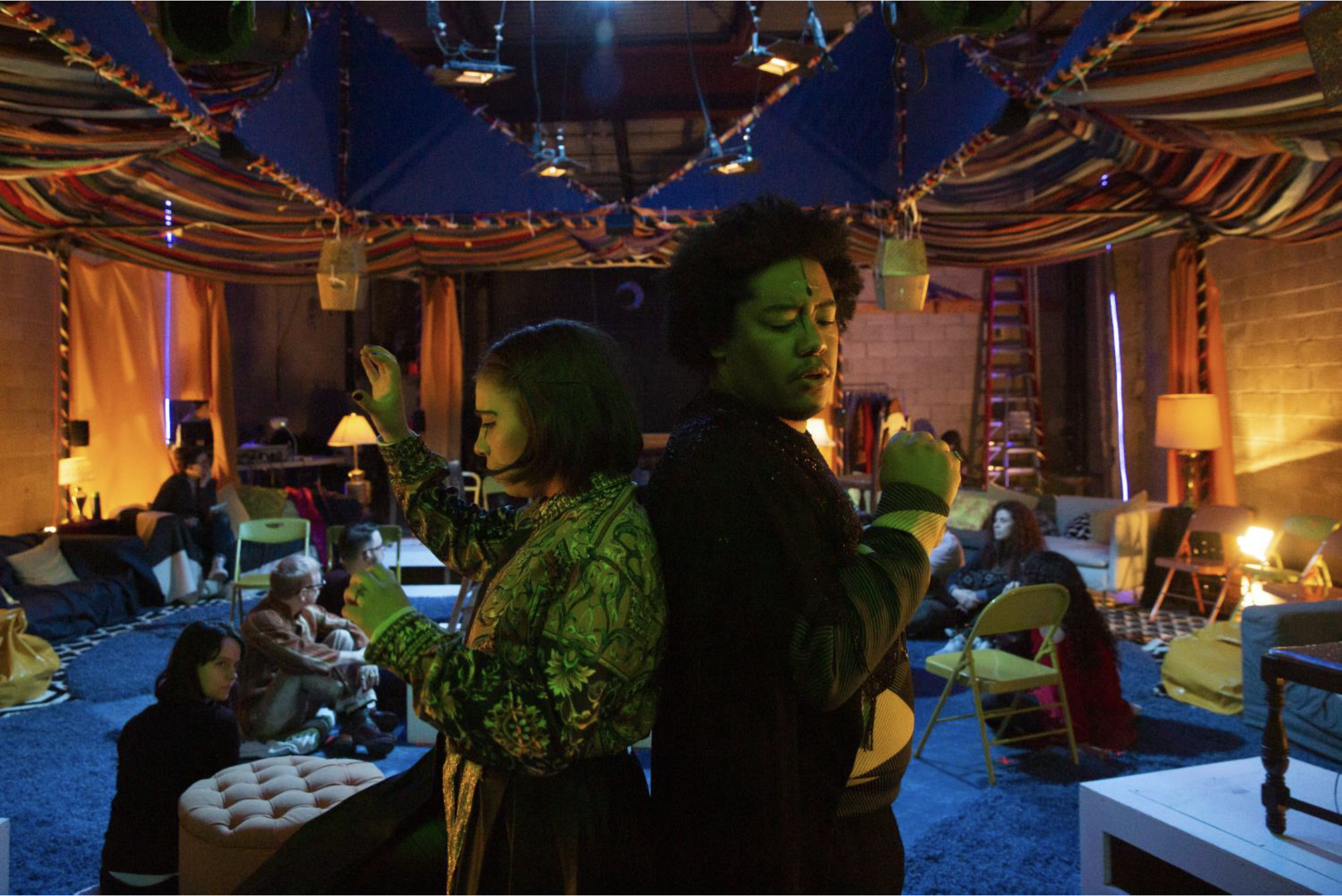 MARJANA AND THE FORTY THIEVES produced by Target Margin Theater, a recipient of the 2019 Edith Lutyens and Norman Bel Geddes Design Enhancement Fund. Photo by Gaia Squarci. 
The Edith Lutyens and Norman Bel Geddes Design Enhancement Fund is paused for 2021 due to the ongoing Coronavirus pandemic and shutdown. The fund will return in Spring 2022 for the July 1, 2022 - June 30, 2023 grant cycle. 
Overview
The Edith Lutyens and Norman Bel Geddes Design Enhancement Fund was created from the estate of noted designers Edith Lutyens and her husband, Norman Bel Geddes. Edith was one of two girls born in Belgium into an Edwardian era family and it is to her English father that she credits much of her indelible sense of character. Her many accomplishments throughout her life, including representing Belgium in the National Field Hockey team and competing in the 1928 Olympics in fencing, helped to prepare her for a life of challenges and success.
Arriving alone in New York City during the height of the war it was not long before she entered
the theater world with her own costume production house and soon was producing for
Broadway and Ballet Society; working with such luminaries as George Balanchine and Lincoln
Kirstein; producing the costumes for Fire Bird with Marc Chagall; Orson Welles on Around the
World in 80 Days; South Pacific and so many others. And in 1947 Edith Lutyens produced Gian
Carlo Menotti's "The "The Telephone/The Medium " for Broadway. It was during this time that she met and later married Norman Bel Geddes and, in her own words, considered this the happiest time of her life. Together they traveled, collaborated on multiple projects, and remained inseparable until Normans death in 1958.
Edith then worked for several years to preserve the Bel Geddes legacy by arranging for all
his papers to be archived at The Harry Ransom Center in Austin Texas. This was a major
accomplishment and it is to Edith's credit that Norman's work is accurately represented today. To further that goal, in 2004 Edith conceived and created the Edith Lutyens & Norman Bel Geddes Foundation with the directive to assist those in the theater world who were most often overlooked; those, like her, who toiled "back of the curtain" as it were; the lighting people, the sound people, the technicians, and of course the costumer.
A.R.T./New York has been the Foundation's partner in that mission since its inception. The goal of the
Foundation is totally consistent with the important work of A.R.T./New York, by supporting design
innovation and securing a future for a vital and essential theater in New York City.
Edith Lutyens and Norman Bel Geddes created their namesake foundation to support the design and production costs of New York City-based nonprofit theatre companies. The Edith Lutyens and Norman Bel Geddes Design Enhancement Fund provides grants intended to augment the artistic needs of a production and allow a designer to more fully realize their artistic vision for a production. Design enhancement can impact the artists and audiences involved in a production in many ways, from formal and technological innovations to augmenting the audiences experience in the theatre. In order to have the most significant impact, these funds must supplement the current production budget and augment the original design concept. Applicants may request support for sets, lights, sound, costumes, video, projection, or multimedia design elements, with a focus on materials and equipment that will augment and enhance the design.
In essence, we ask you and your design team to dream big and answer the question: "What would you do if you had an extra $5,000 or $10,000 to spend on this production?" Examples of grant uses include: increasing materials budget for a given design element, paying for additional or more elaborate equipment, using higher quality materials than originally thought affordable, building a design element instead of renting it, or experimenting with a new technology solution.


Application Downloads, Evaluation Criteria, & Narrative Guidelines »
Please review all information before applying.


Grant Reporting, Crediting, & Recipients »
Click here for information on the 2019 grant, including a list of recipients and crediting and reporting information for current grantees.
For more information about this program, please email [email protected]. 


---
Application opens: 

Monday,

 

March 2, 2020

Narrative & Budget Review deadline:

Monday, April 6, 2020 at 10:00am

Application closes: 

Monday, April 27, 2020 at 5:00pm

Grant Period:

July 1, 2020 - June 30, 2021

 


---
Applicant must be a Full member of A.R.T./New York in good standing, with no outstanding dues, loans, or rent.

Independent Producers and Incubator Members are not eligible for this grant program

;
Companies applying for A.R.T./New York membership in order to be eligible for the grant must apply for membership at least 2 weeks before the grant deadline and should reach out to

[email protected]

 explaining their intention to apply, in order to ensure their membership is approved in time;
Applicant must have its own 501(c)(3) status (no fiscal sponsorship accepted);
Applicant must NOT have had annual operating expenses totaling more than $5,000,000 for its most recently completed fiscal year. This includes all non-theatre related programming and activities, except capital campaigns;
Applicant must NOT have received funding from the Design Enhancement Fund in both of the last two consecutive years (2018 and 2019);
Applicant may only request funding for a project that occurs in New York City between July 1, 2020 - June 30, 2021. Touring productions are eligible, provided they have New York City performance dates during the grant period. In cases where a funded project is delayed beyond June 30, 2021, organizations must return the funds to A.R.T./New York as soon as the delay is confirmed;
Presenters applying on behalf of a company that does not meet the above eligibility criteria will not be considered;
A lack of funding should not impair the production as originally envisioned by the design team. Put another way, the enhancement should be described in positive terms, and should not devalue the creativity and feasibility of the original design concept(s) for the production. This grant is to enhance and augment the original design, not to fund the original design. 


Limitations
Applicants MAY NOT use grant money for salaries, fees, labor, training programs, or travel expenses. Applicants may only request funding for one production to be performed in New York City between July 1, 2020 - June 30, 2021. Funding may enhance more than one design element in the same production.

Due to limited funds, your request should not exceed $10,000, and it is recommended that applicants explain clearly and specifically how enhancement funds will be allocated, and provide research to support the costs itemized in the budget. 
A note about COVID-19: We understand that this is a period with many uncertainties and changes, and therefore we will not be judging the feasibility of the applications in relation to the COVID-19 crisis. Rather, we will be assessing feasibility based on whether the applicant would be able to execute the timeline of their design enhancement under typical circumstances. We know that production schedules are still very much in flux at this moment, and panelists will be reviewing your application with the assumption that you will be producing your project on the timeline you have proposed. We encourage you to take a close look at the evaluation criteria when crafting your application, and please email grants@art-newyork.org if you have any questions.
For more information about guidelines, templates, and evaluation criteria, click here »
 
---
Information Sessions
These info sessions, held in our offices and online, were hosted by A.R.T./New York Programs staff who walked applicants through the application and guidelines. Applicants were welcome to bring questions, and were strongly encouraged to read the application and guidelines before coming to the session.
Grant Info Session #1 (Manhattan)

Wednesday, March 11, 2020
10:30am - 12:00pm
A.R.T./New York Conference Room // 520 8th Ave, Suite 319
Sign up »
Grant Info Session #2 (Online)

Tuesday, March 17, 2020
1:00pm - 2:30pm
Zoom
Sign up »
Grant Info Session #3 (Online)

Monday, March 23, 2020
1:00pm - 2:30pm
Zoom
Sign up »

Can't make an info session? Watch a recording here!


---
Narrative Statement & Budget Review
Applicants who wish to receive comments on a draft of their narrative and/or their budget and budget notes before submitting their application may send a draft and receive comments from the A.R.T./New York Programs team. The hope is to give applicants who choose to avail themselves of this service the best possible opportunity to create a competitive application.
Before submitting a narrative statement for review, we strongly encourage you to read over the narrative questions and the criteria for evaluation, and ensure your narrative addresses them in full. We also strongly encourage you to have a second reader do the same, as well as have someone look over the narrative for a copy-edit. Incomplete narrative statements will not be accepted for narrative review. Once you have done these things, A.R.T./New York staff will be happy to read your draft for clarity and content. 
In addition to submitting a narrative statement for review, you may also submit a budget and budget notes for review by Programs Staff. Make sure you have followed the instructions for the budget. Please note budgets submitted for review without accompanying budget notes will not be accepted for review.
When sending a draft, please keep in mind:
A.R.T./New York staff will only look at one draft and provide comments. We cannot review multiple drafts for you before the deadline.
A.R.T./New York staff will only review your narrative statement

and/or budget and budget notes

, no other application documents may be sent for review prior to submitting your application.

Incomplete narratives (that do not answer all required narrative questions) or budgets that do not include accompanying budget notes will not be reviewed.

Our staff will look at the draft of your narrative and provide comments and guidance; we will not copy-edit or rewrite your narrative for you.
The individuals providing comments are not voting members of the grant panel.
If seeking a review of your narrative statement and/or budget and budget notes, please send a draft as a PDF attachment with your company's name in the file name to [email protected] by 10:00am on Monday, April 6, 2020, and a member of the A.R.T./New York Programs Team will review it and provide comments.