The Edith Lutyens and Norman Bel Geddes design enhancement Fund
Overview | Timeline | Guidelines & Eligibility | Grant Assistance | Current Grantees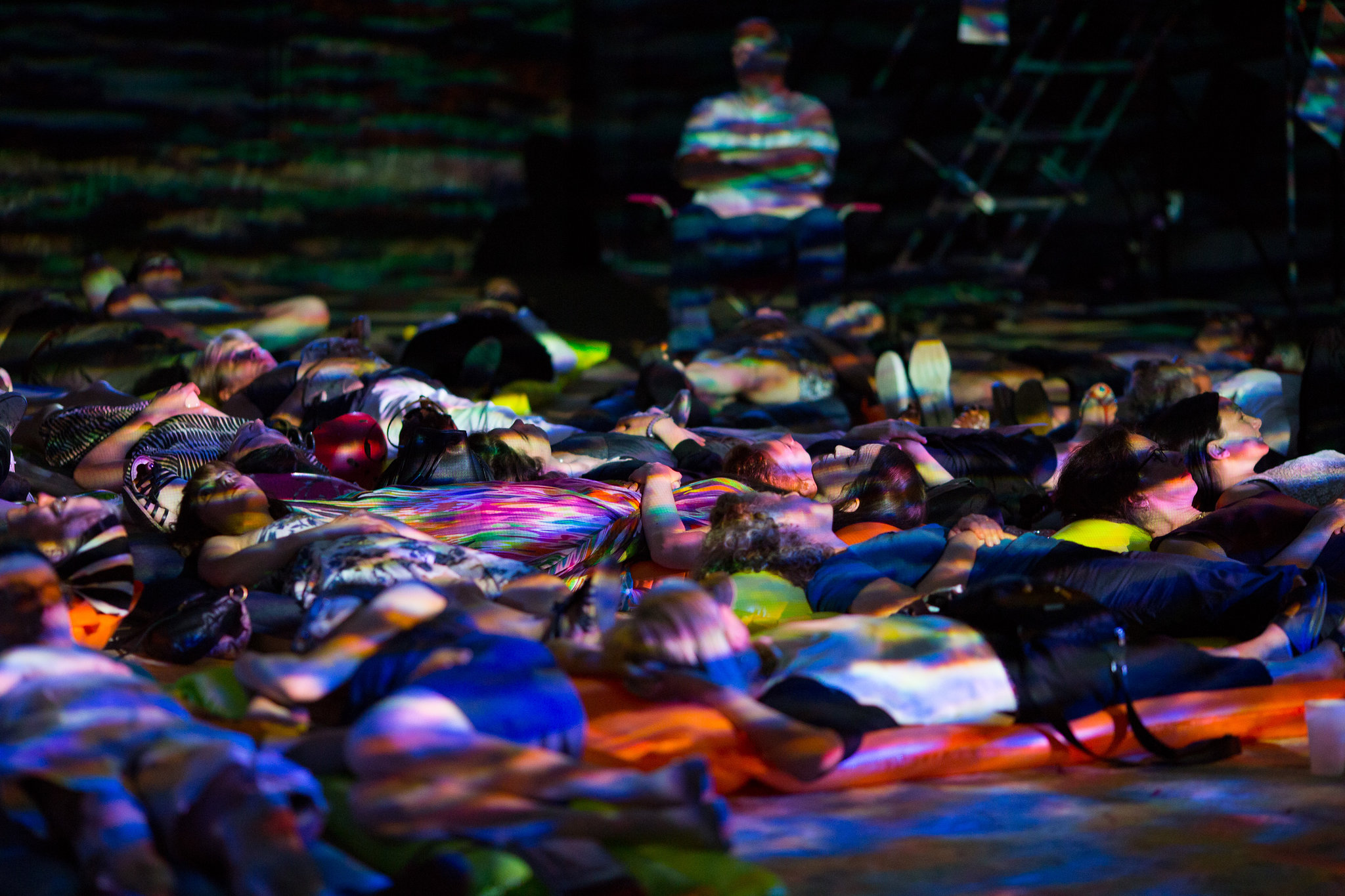 New Georges, (NOT) WATER, photo by Marina McClure
2017 Edith Lutyens and Norman Bel Geddes Design Enhancement Fund Recipient
OVERVIEW
The Edith Lutyens and Norman Bel Geddes Design Enhancement Fund was created from the estate of noted designers Edith Lutyens and her husband, Norman Bel Geddes. Edith Lutyens Bel Geddes was a theatrical costume designer and producer, who also ran a costume shop in New York City. In 1954, she shared a Tony Award for the costume design of Ondine. Mrs. Bel Geddes was also the publisher of Theatre Arts magazine from 1958 through 1960. Norman Bel Geddes started his career as a scenic designer for The Metropolitan Opera. He eventually shifted his focus to industrial design and was the first person to seriously apply the concepts of aerodynamics and streamlining to that field. In 1939, he designed the General Motors Pavilion for the New York World's Fair.
Edith Lutyens and Norman Bel Geddes created their namesake foundation to support the design and production costs of New York City-based nonprofit theatre companies. The Edith Lutyens and Norman Bel Geddes Design Enhancement Fund provides grants intended to augment the artistic needs of a production and allow a designer to more fully realize their artistic vision for a production. Design enhancement can impact the artists and audiences involved in a production in many ways, from formal and technological innovations to augmenting the audiences experience in the theatre. In order to have the most significant impact, these funds must supplement the current production budget and augment the original design concept. Applicants may request support for sets, lights, sound, costumes, video, projection, or multimedia design elements, with a focus on materials and equipment that will augment and enhance the design.
In essence, we ask you and your design team to dream big and answer the question: "What would you do if you had an extra $5,000 or $10,000 to spend on this production?" Examples of grant uses include: increasing materials budget for a given design element, paying for additional or more elaborate equipment, using higher quality materials than originally thought affordable, building a design element instead of renting it, or experimenting with a new technology solution.
Grantees can find information on crediting policies and language here.
For more information about this program, please email [email protected]. 
---
The application for the 2019 Edith Lutyens and Norman Bel Geddes Design Enhancement Fund (for productions taking place throughout 2019) opened on August 27, 2018 and closed on October 1, 2018 at 5:00pm.
---
Applicant must be a current member of A.R.T./New York in good standing, with no outstanding dues, loans, or rent;

Companies applying for A.R.T./New York membership in order to be eligible for a grant must apply for membership at least 2 weeks before the grant deadline and should reach out to

[email protected]

  explaining their intention to apply, in order to ensure their membership is approved in time.

Applicant must have its own 501(c)(3) status (no fiscal sponsorship accepted);

Applicant must NOT have had annual expenses totaling more than $5,000,000 for its most recently completed fiscal year. This includes all non-theatre related programming and activities, except capital campaigns;

Applicant must NOT have received funding from the Design Enhancement Fund in both of the last two consecutive years (2017 and 2018);

Applicant may only request funding for a project that occurs in New York City between January 1 and December 31, 2019. Touring productions are eligible, provided they have New York City performance dates in 2019. In cases where a funded project is delayed until 2020, organizations must return the funds to A.R.T./New York as soon as the delay is confirmed;

Presenters applying on behalf of a company that does not meet the above eligibility criteria will not be considered.

A lack of funding should not impair the production as originally envisioned by the design team. Put another way, the enhancement should be described in positive terms, and should not devalue the creativity and feasibility of the original design concept(s) for the production. This grant is to enhance and augment the original design, not to fund the original design. 
LIMITATIONS
Applicant MAY NOT use grant money for salaries, fees, labor, training programs, or travel expenses. Applicants may only request funding for one production to be performed in New York City between January 1-December 31, 2019. Funding may enhance more than one design element in the same production.

Due to limited funds, your request should not exceed $10,000, and it is recommended that applicants explain clearly and specifically how enhancement funds will be allocated, and provide research to support the costs itemized in the budget.

GUIDELINES, ELIGIBILITY, and APPLICATION DOWNLOADS »

Please review the guidelines in full before applying.

Applications for the 2018-19 Bel Geddes Fund have closed. 


 
---
Information Sessions
Info sessions for the Bel Geddes Design Enhancement Fund were held on September 4th, September 11th, and September 24th, 2018.
Click here to view a recording of the online info session »

Narrative Statement Review
Applicants who wish to receive comments on a draft of their narrative before submitting their application may send a draft and receive comments from the A.R.T./New York Programs team. 
Before doing so, we strongly encourage you to read over the narrative questions and the criteria for evaluation and ensure your narrative addresses these in full. We also strongly encourage you to have a second reader do the same, as well as having someone look over the narrative for a copy-edit. Once you have done these things, A.R.T./New York staff will be happy to read your draft for clarity and content. 
When sending a draft, please keep in mind:
A.R.T./New York staff will only look at one draft and provide comments. We cannot review multiple drafts for you before the deadline.

A.R.T./New York staff will only review your narrative statement, no other application documents may be sent for review prior to submitting your application.

To ensure feedback in a timely manner, for the Edith Lutyens and Norman Bel Geddes Design Enhancement Fund you must submit your draft by Thursday, September 20th, 2018 at 5pm.

Our staff will look at the draft of your narrative and provide comments and guidance; we will not copy edit or rewrite your narrative for you.

The individuals providing comments are not voting members of the grant panel.
If seeking a review of your narrative statement please send a draft as an attachment to Programs Assistant, Member Services, Jeannely Lopez at [email protected] with "Narrative Review" and your company's name in the subject line, and a member of the A.R.T./New York Programs Team will review it and provide comments. 
---
CURRENT GRANTEES
2019 Edith Lutyen and Norman Bel Geddes Fund Recipients
Target Margin Theater // The Girl Speaks
To enhance designs by Kate McGee.
Boundless Theatre Company // Fur
To enhance designs by Regina Garca, Sarita Fellows, and Maria-Cristina Fust.
The Bushwick Starr // CABIN
To enhance designs by Carolyn Mraz, Mandy Ringger, and Austin Switser.
WaxFactory // LULU XX
To enhance designs by Marsha Ginsberg and V Owen Bush.
Compagnia de' Colombari // More Or Less I Am
To enhance designs by Solomon Weisbard, Tony Gebelle, and Ricardo Hernandez.
Red Bull Theater // The White Devil
To enhance designs by Louisa Proske and Yana Biryukova.
The Barrow Group // Perp
To enhance designs by Edward T. Morris.
The Civilians // Paul Swan is Dead and Gone
To enhance designs by Andromache Chalfant. 
Header: Irish Repertory Theatre's production of Finian's Rainbow. Photo by Carol Rosegg.