colleague-to-colleague roundtables
A.R.T./New York members highly value the opportunity to meet over breakfast with their colleagues in an informal and confidential setting. If you wish you knew your colleagues at other theatres a little better or would benefit from talking about your challenges with someone who can relate to them, then you should come to an A.R.T./New York roundtable! Roundtables are free of charge to all members. A.R.T./New York offers two kinds of Roundtables: Core and Topical.
Core Roundtables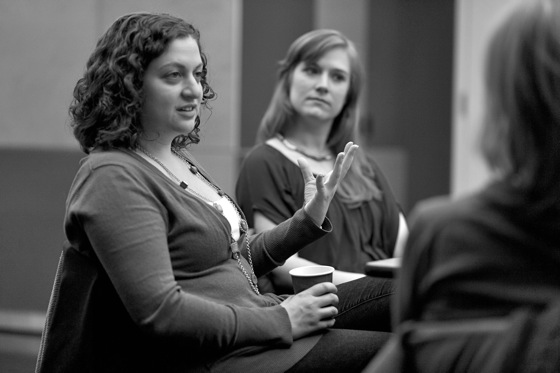 Tier 1 Artistic/Literary Roundtable
Core Roundtables are organized by membership tier (budget size) and position in the company, for example development or marketing.
Topical Roundtables
Ensemble Technique Swap with SITI Company and Irondale Ensemble. Photo: Sally Poulin.
Topical Roundtables are initiated by you, our members. If the Core Roundtables are too broad to cover everything you want to discuss or if there a specific item of interest you think could become a roundtable of its own, then we will be happy to coordinate it! Contact Corinne Woods, Co-Director of Programs, at cwoods@art-newyork.org to discuss.
All roundtables are limited capacity and priority is given to those who RSVP in advance.
Roundtables are made possible in part by generous funding from the National Endowment for the Arts, the New York City Department of Cultural Affairs, and the New York State Council on the Arts.
Header: David Greenspan, Ugo Chukwu, Rachel Claire, Amir Darvish, Meg MacCary and Susan Hyon in the Target Margin Theater production of The (*) Inn (photo by Erik Carter)