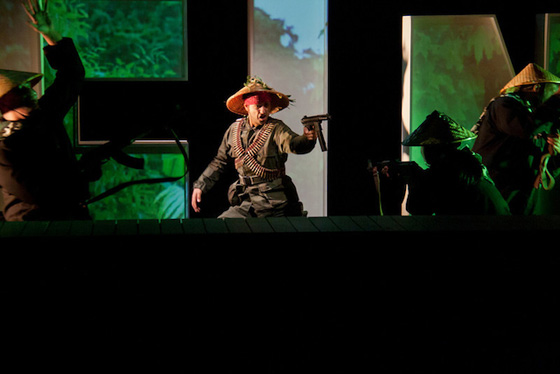 Creative Space Grant recipient Ma-Yi Theatre Company's production of Vampire Cowboys' The Inexplicable Redemption of Agent G // Photo by Peter James Zielinski
A.R.T./New York is happy to announce that with renewed support from The Andrew W. Mellon Foundation, it will continue to award Creative Space grants for the next three years. Thanks to previous support from The Mellon Foundation, A.R.T./New York has provided 27,500 free Creative Space hours to its members since 2011. These grants have supported 140 unique companies, representing thousands of artists from all five boroughs.
When the program was inaugurated in 2011, A.R.T./New York had identified the cost of rehearsal space as a source of financial strain shared among all the companies it represents, making the Creative Space Grant a resource for all member organizations. "NAATCO was about to cut its programming for the first time because of the continuing effects of the economic crash," wrote Mia Katigbak, Artistic Producing Director of NAATCO. "Thanks to the Space Grant, we were able to go ahead with our second production of the season."
The Creative Space Program provides A.R.T./New York members with free rehearsal space hours at its shared office and rehearsal facilities, Spaces @ 520 in Manhattan and the LuEsther T. Mertz South Oxford Space in Brooklyn. These in-kind space grants can be used to support a wide variety of creative activity, including rehearsals, auditions, developmental processes, meetings, invited readings, and workshops that further the artistic endeavors of A.R.T./New York members.
The program will continue to be open to all A.R.T./New York members in good standing, providing between 25-75 free hours per cycle to awarded applicants. Details about the program and the application can be found here. The application process for FY16 Cycle 1 (July-December) will be open through May 22, 2015 and Cycle 2 (January-June 2016) will open in October 2015.