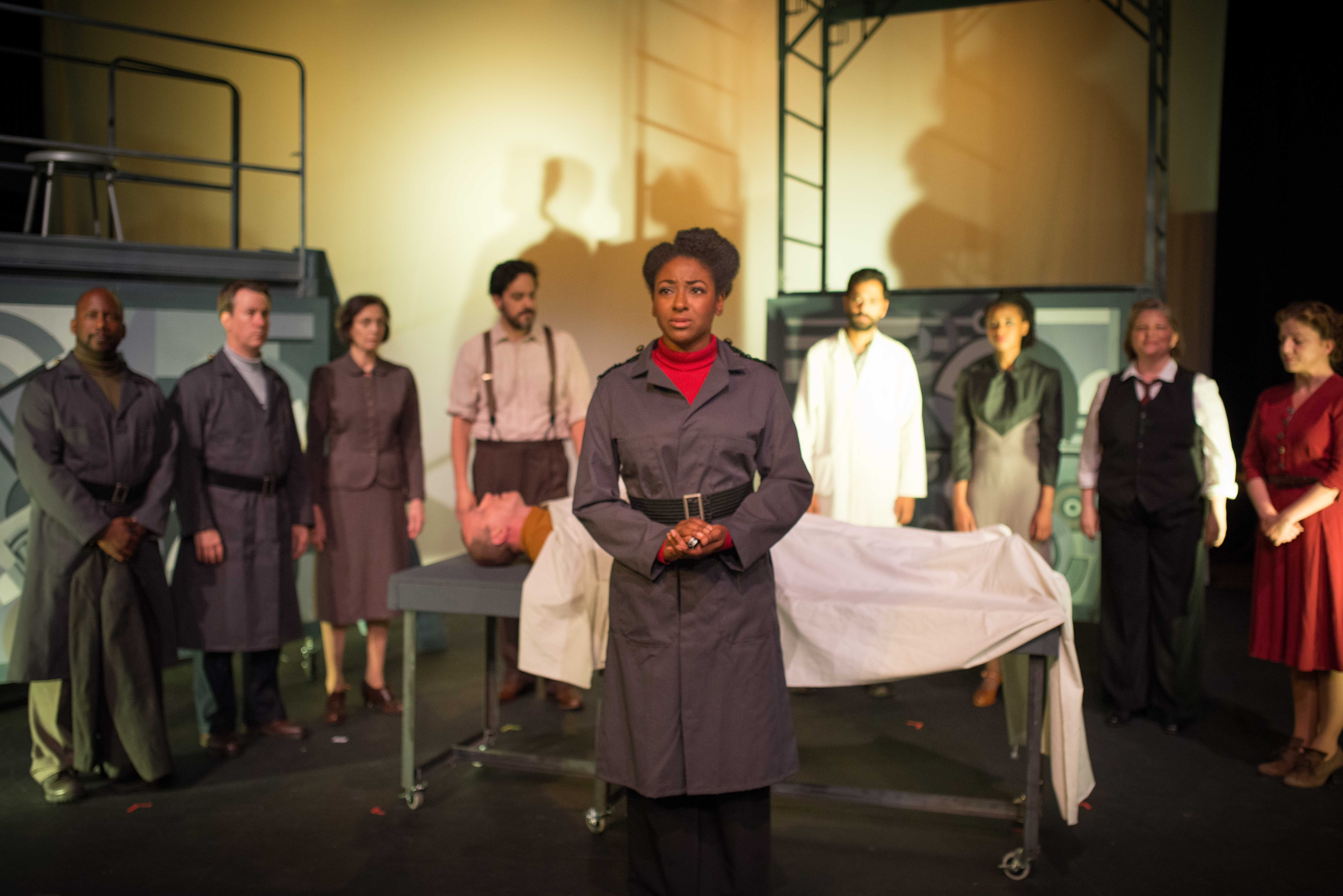 Photo: Deborah Alexander
The mission statement for Gideon Productions is a paragraph long but there is one sentence in the middle that we use as a crucible for any piece we're considering producing – "We explore what's strange about being human and what's human about being strange." To this end, we've told stories time and again about people who, for one reason or another, aren't moving through the world the same way everyone else is. But we'd never taken the next logical step – to reach out to the communities who literally experience the world in a different way and who haven't been targeted as audience members.
So we started brainstorming. A performance for the Deaf? Of course! There was already a roadmap for that. Can we do a performance for the Blind? I bet we can. What about people who can't normally come to the theater, people with Tourette's Syndrome or social anxiety disorders, can we reach them? And what about the group I belong to – those who can't see theater because their kids can't be left alone and babysitting is expensive? We decided to try to reach all four of these communities.
My first and best phone call was to Marielle Duke at Adaptive Arts Theater Company (http://www.adaptiveartstheater.org/). Her organization is working to bridge the gap between disability and the arts. She helped to spearhead nearly every single aspect of these outreach programs for us.
Performance for the Deaf
Obviously, there is already a roadmap in place for this, and I'm also lucky that one of my oldest friends is an interpreter. We contacted Dylan Geil and Lusanne Massaro and only once they enthusiastically agreed to do it did we realize we'd stumbled on to two of the best interpreters in New York. Before the interpreted performance, they sat in the back of the house for two other performances and practiced switching parts back and forth.
To reach the Deaf Audience, we contacted New York Deaf Theater, Theater Breaking Through Barriers, Hands On and several other organizations. We even donated tickets to a fundraiser for NYDT in order to help them while they were spreading the word.
Performance for the Blind
After some research, we found the organization called Sound Associates that has hardware and software to provide what is called "D-Scriptive" service. Through this, a Blind person can wear a single ear bud and they can listen to a narration that accompanies the performance. The narration can either be recorded or performed live.
To reach the Blind audience, we contacted the American Foundation for the Blind and followed up with Theater Breaking Through Barriers. We also found a lot of support from the people who work at TDF, even though they generally only give official support to organizations that are working with them in a professional capacity. These programs inspired a lot of people to want to help.
Audiences with Invisible Disabilities
One of our initial goals was to create accessible performance specifically targeted to audience members who struggle with social interactions. We planned to create a "Social Story" on the website—a clear, step-by-step guide for patrons new to Gideon Productions or for whom this would be their first theater experience. We talked about creating special seating for any patrons who may need a break during the performance and spoke to the theater about where this break could occur. We began the conversation about how to prepare our actors and designers for a performance with audience members who may not relate to the theater in the same way we are used to (or we have learned to expect). Our hope was to create a fully comfortable experience for individuals who traditionally experience difficulty entering new spaces, particularly spaces bustling with people. For people who wanted to experience theater but didn't feel a physical theater space was a safe space for them, we began talking to Equity about doing a livestream performance.
Parents with Small Kids
This was, in a lot of way, the easiest because I knew if I couldn't find any other solution, I have about fifteen people who could sit with the kids during the performance. Right away, The Sheen Center (where our show was being produced) offered us the use of several rooms on site. This allowed us to split up the kids into two groups: ages 4-8 and ages 8-12. The production was recommended for kids 13 and up, so older kids could just watch the show with their folks.
Facebook and personal email was the best way for us to reach parents. There are many, many groups on social media that will pass along offers to parents and we have a huge network of theater-parents that we're close with. So many organizations are out there with teaching assistants who are trained to take kids through projects and programs and we had an outpouring of help from places like the New Victory, Lincoln Center and NYU.
So, we found ourselves a few weeks before opening with everything set in place. We had a dedicated performance for the Deaf, a performance for the Blind, a performance for Parents with small kids, and an educated, articulate approach to audiences with invisible disabilities. Our next step was implementing these ideas and organizing the audience, which I'll talk about in my next piece.
This post is part one of two. Keep your eyes peeled for the follow-up on how it went in October.

Community Case Studies is a new, ongoing series of blog posts from members for members to share stories about implementing new practices and trying new strategies. Is your company embarking on a new endeavor? Are you taking a risk and making a change to how you do your work? Share that experience with us. If you'd like to contribute, reach out to Kati Frazier at [email protected].