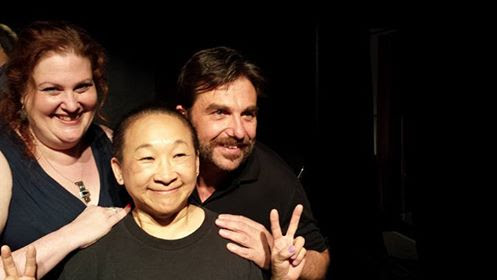 Dear Members,

Last week the theatre community lost an amazing woman whom I was honored to call my friend: Sheri Goldhirsch. Sheri was the Artistic Director of Young Playwrights, Inc. She passed away on Tuesday, September 22nd at the young age of 55. Many of us did not even know that she was sick; such was the very private nature of this selfless woman.

Sheri began as an Intern at Young Playwrights 34 years ago. She swiftly rise to become Managing Director, and upon the sudden and untimely death of Young Playwrights former Artistic Director Nancy Quinn (for whom The Nancy Quinn Funds are named) she was named Artistic Director

Like many women who are 'promoted internally' Sheri had to 'prove herself' worthy of her new artistic role. And let's face it: Nancy was a tough act to follow! While Nancy was a redhead with a flair for the dramatic (who can forget her bright red lipstick!); Sheri was a redhead who preferred to be 'behind the scenes'!

And it was exactly behind the scenes where she did her best work, nurturing young playwrights (teenagers mind you). This past week those writers used their words to remind us that she was the first person to treat them and address them as playwrights! Her encouragement to, as YPF once claimed, "Have Their Say," was felt by each and every writer she met. YPF Founder Stephen Sondheim is right, "Children will listen." Just read the tributes to Sheri on her Facebook page. https://www.facebook.com/sheri.goldhirsch
Young Playwright's Founder and Board Member, Stephen Sondheim had this to say about Sheri:
"The untimely passing of Sheri Goldhirsch is not only a shock to me, but to the entire Young Playwrights Inc. family - a large one, consisting as it does not only of the seven Board Members, but also the 32,300 writers 18 years and younger who have entered their plays in the annual competition (the 340 Winners of which have, as a result, been lucky enough to see their plays professionally staged or produced). Sheri read every one of those plays during her thirty-four years of running the organization, and wrote personal acknowledgments to the playwrights. Sheri devoted her entire career to encouraging young people to find their creative roots and let them grow. Our loss is their loss, and it is a mighty one."
Sheri left behind an amazing legacy – one which will not truly be realized for a dozen or more years – by the "young playwrights" who continue to write. They are our future, the next Madeline George, Jonathan Mark Sherman, Julia Jarcho or Lin Manuel Miranda.
With love and sadness,