Creative Space GrantS
The A.R.T./New York Creative Space Grant, supported by the Andrew W. Mellon Foundation, is designed to provide theatre companies with real estate opportunities to help them meet their creative needs. This is an in-kind grant that provides A.R.T./New York members with $650-$2,000 in credit to be used on studio space at A.R.T./New York's Spaces @ 520 in Manhattan, and the LuEsther T. Mertz South Oxford Space in Fort Greene, Brooklyn. Applicants may request space to meet any need that enables them to better create their work, including but not limited to rehearsals, auditions (no open calls), meeting space, or any combination of the above. Bookings may be made in bulk for multiple hours per day over the course of a few weeks (in the case of rehearsals), or spread out over the entire grant period. Revenue-generating activities (such as fundraisers or workshops that charge participants to attend) and ticketed performances will NOT be supported through this grant. Applicants cannot apply credit to any bookings that they made prior to receiving their grant notification.
Rental space is available to grantees based on availability. While recipients may request specific studios at either or both of A.R.T./New York's facilities, A.R.T./New York cannot guarantee that it will be able to accommodate requests exactly as submitted.
Grantees can find information on crediting policies and language here.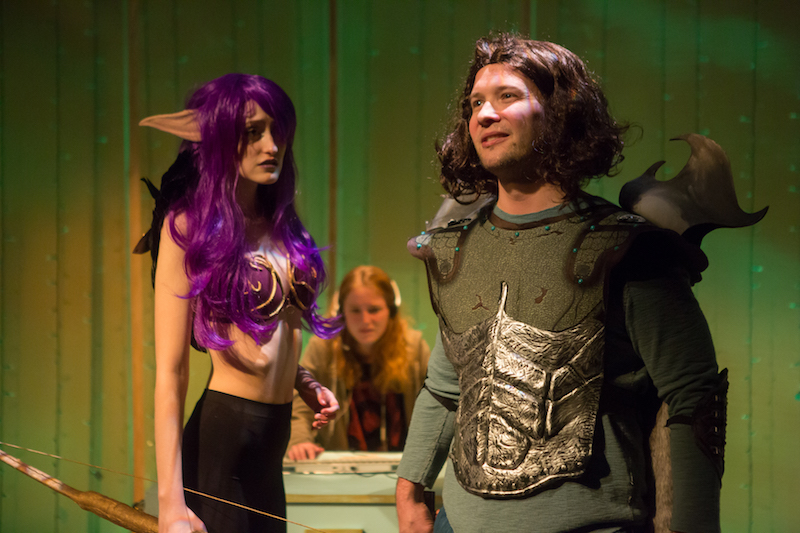 Creative Space Grant recipient Project Y Theatre Company's production of ' The 'Connected' // Photo by Hunter Canning
APPLICATION DEADLINE
The application for the FY19 Creative Space Grant Cycle 1 opened Monday, April 16th and will close Monday, May 14th at 5:00pm.
FY19 Cycle 1 is a grant for space for July - December of 2018.
Creative Space Grants are made twice annually, with applications due in November (for January - June) and May (for July - December) of each year.
NEW IN FY19 CYCLE 1
While in prior years Creative Space Grant requests were for the amount of hours needed, beginning with the current application for FY19 Cycle 1, grant requests are for a dollar amount in credit to be used towards bookings. Applicants can request $650-$2,000 in credit. This change allows us to reduce the restrictions on the use of the grant and ultimately allows for the grant to make a bigger impact. Please refer to the rental rates for our studios when calculating the amount of credit you would like to request, and pay close attention to the guidelines for the use of hours and the application as they have changed.
Creative Space is not a cash grant. Recipients will receive credit for use in the spaces.
Please review all information before applying. Including the space guidelines below.
DEADLINE: Monday, May 14th at 5PM

GRANT ASSISTANCE
Grant Information Sessions
These sessions, held in our Manhattan office and online, will be hosted by A.R.T./New York programs staff who will walk applicants through the application and guidelines. Applicants are welcome to bring questions, and are strongly encouraged to read the application and guidelines before coming to the session.
Narrative Statement review is also available to assist applicants. Please see our guidelines page for more information on this process.
SPACE GUIDELINES
(Click here to download the updated guidelines)
Grantees will coordinate space bookings with A.R.T./New York's facilities staff. The following booking options and guidelines will be applicable to grantees upon receipt of their grant.
Creative Space Grant Credit are subject to the following restrictions:
Grant credit may be used for bookings at either South Oxford Space or Spaces @ 520.

Grant credit may not be used for revenue generating events such as Galas, ticketed performances, workshops that charge for attendance, etc.

Credit cannot be transferred to other companies or individuals.

Grant credit cannot be retroactively applied to reservations already made with A.R.T./New York.
Unused credit cannot be carried over to the next grant cycle

Grantees may request any of the studio and meeting rooms at South Oxford Space or Spaces @ 520. While A.R.T./New York will try to accommodate all requests, rooms are subject to availability.

Due to the layout of the facilities, certain noise and capacity restrictions might apply. A.R.T./New York reserves the right to restrict space use, especially for rehearsals and events that involve dance, excessive noise or occupancy, or the use of musical instruments in excess of the pianos provided.
When booking space, grantees must:
Clearly state that they intend to use credit from their grant award when making their reservation.

Indicate their intended use of the space honestly and accurately when making their reservation.

Confirm with facilities staff prior to booking that the desired studio can accommodate special needs, including but not limited to: loud noise, music, and sound equipment.

Provide advance notice to facilities staff for bookings that will involve unusually large groups, or other special circumstances.
Cancellations, no-shows, and unused credit
Grantees wishing to cancel a reservation must do so at least three days in advance, or the credit used for booking will be forfeit.

All credit unused by the end of the grant period will be forfeit.

Excessive late cancellations, no-shows, unused credit, and rule violations could affect eligibility for future grant cycles.

In the event that a company's plans change and Creative Space Grant credit is no longer needed, Grantees can return all or part of their credit without effecting their future eligibility if they contact A.R.T./New York staff by September 30th, 2018.

Grantees that leave $200 or more in Creative Space Grant credit unused will be deemed ineligible for the following cycle.
For facility information visit www.art-newyork.org/rehearsal-space. For more information about this program, please contact Programs Coordinator Corinne Woods, at cwoods@art-newyork.org or (212) 244-6667 ext. 241.


FOR CURRENT GRANTEES
The Creative Space Grant is made possible by generous leadership support from The Andrew W. Mellon Foundation.
FY2018 CYCLE TWO CREATIVE SPACE GRANT RECIPIENTS

The following 64 companies received a total of 2,950 hours of rehearsal space for use in A.R.T./New York studios at Spaces@520 and the LuEsther T. Mertz South Oxford Space between January to June.
Actionplay
American Opera Projects
Blessed Unrest
Broken Box Mime Theater
Buran Theatre
Classics in Color: An INclusive Theatre Company
Clubbed Thumb
CO/LAB Theater Group
Colt Coeur Theater Company
Concrete Temple Theatre
Co-Op Theatre East
Dramatic Question Theatre
DreamStreet Theatre Company
En Garde Arts
Ensemble Studio Theatre
EPIC Players
Fault Line Theatre
Fresh Ground Pepper
Girl Be Heard
Hedgepig Ensemble
HERE
Honest Accomplice Theatre
Houses on the Moon Theater Company
Keen Company
Leviathan Lab, Inc.
Life Jacket Theatre Company
Live Source Theatre Group
Lyra Theater
National Yiddish Theatre Folksbiene (NYTF)
New Georges
New York City Children's Theater
New York Deaf Theatre, Ltd.
New York Musical Festival

New York Neo-Futurists
New York Theatre Barn
Nightdrive
Noor Theatre
Page 73 Productions
Parity Productions
Partial Comfort Productions
Pipeline Theatre Company
Rattlestick Playwrights Theater
Scandinavian American Theater Company
Sinking Ship Productions
Spellbound Theatre
Stable Cable Lab Co.
The Amoralists Theatre Company
The Assembly Theater Project
The Bushwick Starr
The Civilians
The Movement Theatre Company
The Play Company
The Playwrights Realm
The Shadow Box Theatre
The Tank
The TEAM
Theater Breaking Through Barriers Corp.
Theatre 167
TOSOS
Transport Group Theatre Company
viBe Theater Experience
WaxFactory
Woodshed Collective
Working Theater
Header: 2017 Nancy Quinn Fund, Creative Space Grant, Creative Opportunity Fund, and Rental Subsidy Fund recipient Broken Box Mime Theater's prduction of SEE REVERSE // Photo: Bjorn Bolinder www.findthelightphotography.com @findthelightphotography