On April 20th, A.R.T./New York celebrated the 2015 Spring Benefit honorees with grand musical numbers and thoughtful tributes at Tribeca Rooftop. The night was a huge success, raising over $280,000 for our funding, training, real estate, and advocacy services for A.R.T./New York's 350+ member theatres--including over $13,000 onsite for Nancy Quinn Fund re-grants to the city's smallest theatres with budgets under $100,000.
The rainclouds cleared just in time for skyline views of the city from the roof; inside, the first of a three course gourmet meal was served while a musical tribute unfolded on stage. The company of actors danced with the evening's host, Christine Lahti, in a spectacular kick-line before A.R.T./New York Executive Director, Virginia P. Louloudes, took the stage to dance and sing the praises of some of the evening's supporters.
The first tribute of the night brought the generous, dynamic, and fun-loving A.R.T./New York Board Member Lisa Cleff Kurtz center stage and into the action as the actors described her through song to the audience. Cynthia Harris stepped forward, and before presenting Lisa with The Kathy and Howard J. Aibel Award, Cynthia explained how just a year ago she entered a nail salon and left not only with a brand new knowledge of A.R.T./New York but also with a brand new friend in Lisa.
Following dinner, the evening's second honoree, Director Pam MacKinnon, was presented with The Abe L. Blinder Award. To honor Pam, Todd Almond sang a funny and touching song and Jordan Roth spoke about how perceptive, smart, generous, fun, and "very tall" she is.
The evening was energetic and fun, and most importantly showed great support of A.R.T./New York and our honorees. If you were able to join us, thank you so much for supporting the A.R.T./New York 2015 Spring Benefit and all of our 350+ member theatres!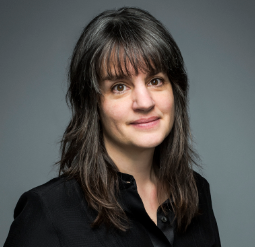 Internationally acclaimed theatre director
Pam MacKinnon
, was presented with
The Abe L. Blinder Award
in honor of her significant impact on the New York City theatre community. Pam is a Tony, Obie, Drama Desk, and Lilly Award recipient and is the Chair of the Board of Clubbed Thumb, an A.R.T./New York member theatre. Her numerous directing credits include
A Delicate Balance
on Broadway,
Clybourne Park
,
Who's Afraid of Virginia Woolf?
, and the upcoming revival of
The Heidi Chronicles
, starring Elisabeth Moss and Jason Biggs.